The DCR Coffee Podcast, No. 3: Emily Holzer of Hot Shot Espresso
Based in Lewiston, Idaho, this community-focused entrepreneur built a business from scratch 21 years ago after leaving her job working for an ammunition manufacturer.  Emily shares the books that inspired her to take the leap both in starting the business itself and in facing the trials and tribulations that go along with managing an unexpectedly large work force.  
She talks about the life-changing trip she took to origin in El Salvador, spending time with Emilio on his farm.  Awestruck by the experience, she continues to convey her appreciation of the hard work that goes into harvesting each lot to her team as part of employee training.  Staff are taught to be mindful of how many hands the coffee crosses before it gets to them, and that theirs is the last before it goes to the consumer. She shares, "We care that much about the coffee."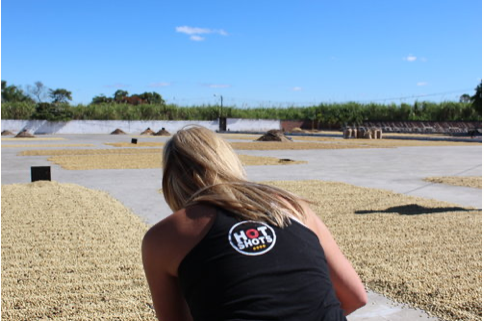 Get to know Emily and the creative ways they support their local community, such as putting stickers on their to-go cups to help advertise for local fundraisers, in the 3rd episode of The DCR Coffee Podcast with hosts David J. Morris, co-CEO at Dillanos Coffee Roasters, and Dave Rand, National Sales and Marketing Manager. 
If you're local to Lewiston, swing through one of their four locations. And if not, there's always ordering the coffee served at Hot Shot Espresso, one of our darkest blends, Special Dark, from Dillanos.com.  
Connect with our guest online and on social:
Web: hotshot-lewiston.squarespace.com
Facebook: @hotshotlewiston
Instagram: @hotshotsespresso_lewiston